Welcome!
HEY THERE! My name is Ayesha Sehra and I believe that true fulfilment in life comes from how much we can GIVE to others. The impact we make, the impressions we leave others with, the passion we have towards life and the gratitude & love we keep pouring out onto the world!
My mission is to create a movement of GROWTH for Millennials.
I want to INSPIRE you all to live YOUR best life.
MOVE PAST any limiting beliefs, UNLOCK your full potential and create a ripple effect of POSITIVITY and LOVE amongst us all!
This world needs more YOU and I believe it is my life's purpose to empower you all to reveal all of that goodness inside you!
Being unapologetically YOU & constantly showing up as your best self in ALL aspects of your life- Mentally, Physically, Emotionally & Spiritually.
I would love nothing more than to have you follow along my Entrepreneurial journey for inspiration, strategies, advice on how you can live a life on YOUR terms.
Full of the financial freedom and abundance you desire for your life!
Step into the purpose-filled life you are MEANT to live.
It starts with me & you.
Are you ready?
SPECIALTIES & CERTIFICATIONS
Entrepreneur- Founder/CEO of Grow The Social, A Social Media Marketing Agency
Personal Brand & Social Growth Expert
Social Media Influencer
Host of the Raw Truth Podcast
Published Fitness/Print Model
Speaker
Certified Personal Trainer
Personal Development & Mindset Coach
Certified Yoga Instructor
Precision Nutrition Coach
National Level CBBF (Canadian Bodybuilding Federation) Bikini Competitor
Certified Group Fitness Instructor
Bootcamp Coach
INSTAGRAM @ayeshasehra
Press
"TORONTO'S TOP 40 INFLUENCER LIST" (FEBRUARY 2019) https://saltwreck.com

"UPIC" MOBILE APP COMMERCIAL (FEBRUARY 2019) https://www.upicapp.com

SPEAKER AT THE "STACKING GROWTH SUMMIT 2019" (MARCH 2019) http://www.stackinggrowthconf.com

HOST OF THE TORONTO BLUE JAYS X JAYS CARE FOUNDATION LIVE EVENT (MAY 2018) https://www.mlb.com/bluejays/community/jays-care/our-approach

THE VOYAGER LA, "LA'S MOST INSPIRING STORIES" MAGAZINE PUBLICATION FEATURE (DECEMBER 2018)

INFLUMONSTER SOCIAL MEDIA AND ONLINE STORE CATALOGUE SHOOT (OCTOBER 2018)

COFFEE & TINGS APPAREL SOCIAL MEDIA AND ONLINE STORE CATALOGUE SHOOT (OCTOBER 2018)

JED NORTH APPAREL- PRINT AND ONLINE CATALOGUE SHOOT (May 2018)

SUNDARI SWIMWEAR PHOTOSHOOT (March 2018)

FEMEVOLVE MAGAZINE COVER MODEL SHOOT - FEBRUARY COVER SHOOT AND 10 PAGE-MAGAZINE SPREAD (February 2018)

SLIMCYCLE FITNESS SPIN BIKE INFOMERCIAL - Spring 2018

SCORIA WORLD YOGA - VIDEO PROMO SHOOT AND PHOTOSHOOT (October 2017)

NATIONAL SPORTS CANADA DIGITAL ADS (February 2018)

SHOPIFY PHOTOSHOOT- BURST STOCK WEBSITE (August 2017)

INSIDE FITNESS MAGAZINE HOT & FIT 100 (January 2017)

SPORT CHECK CANADA COMMERCIAL (Summer 2016)

ONTARIO PHYSIQUE ASSOCIATION MAGAZINE PUBLICATION (December 2015)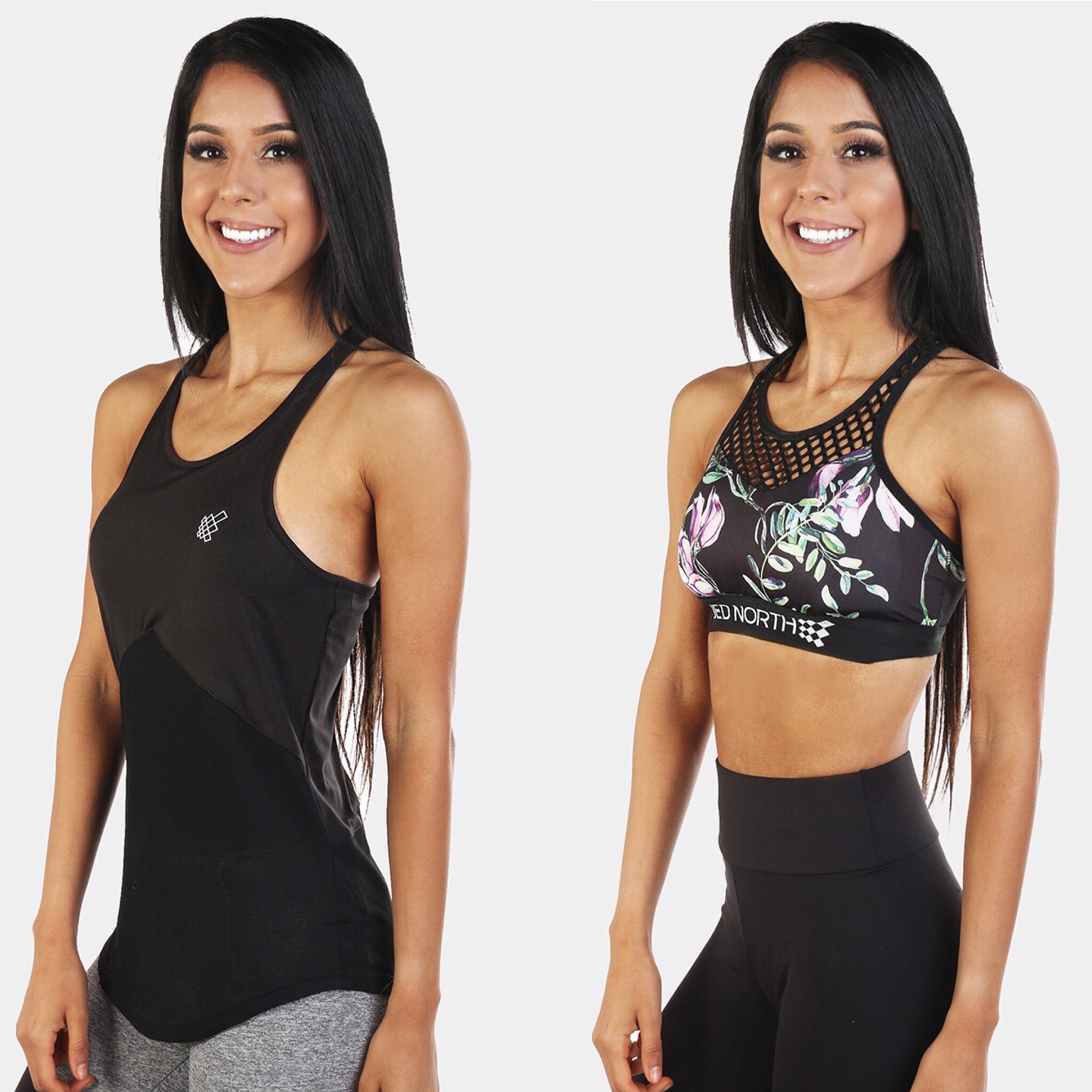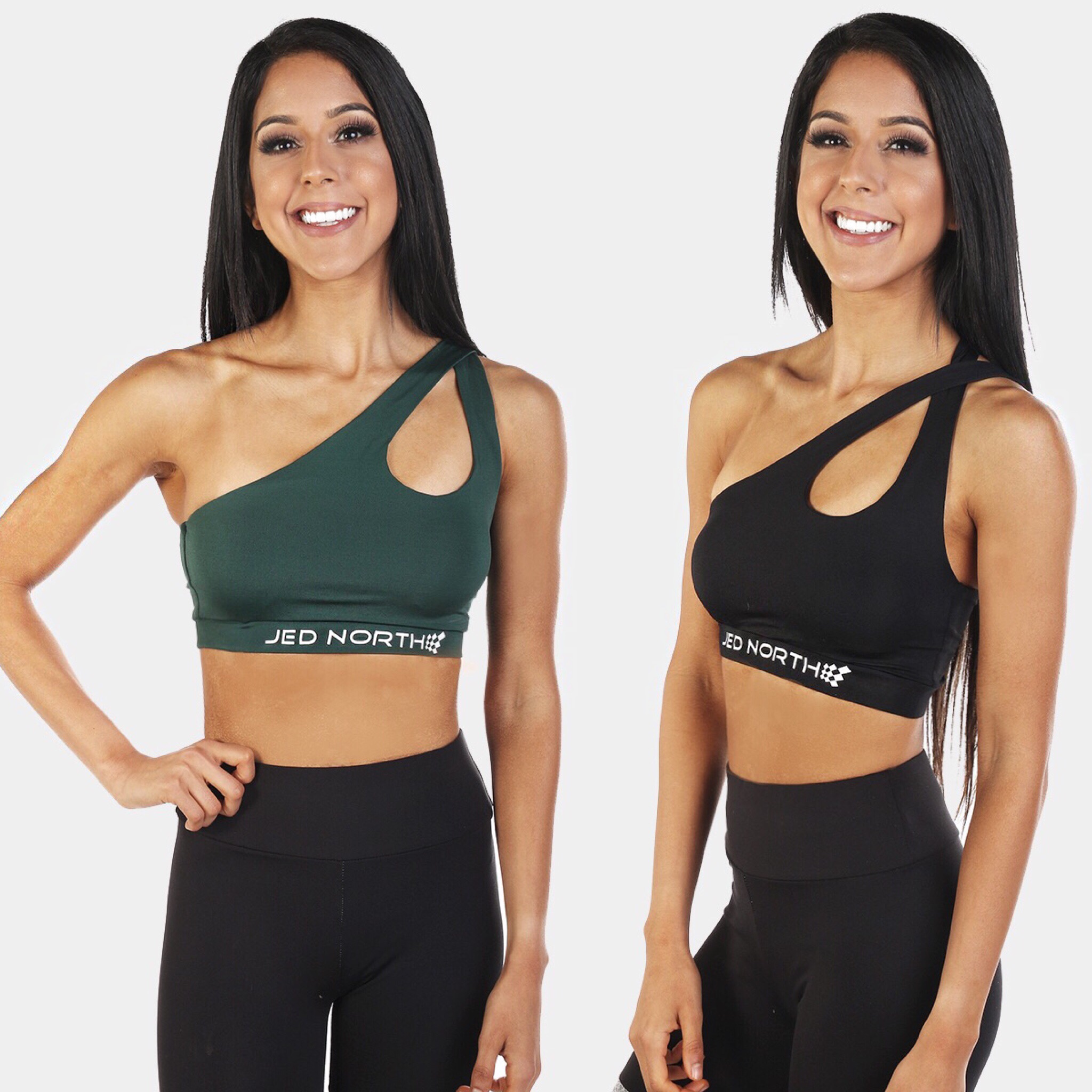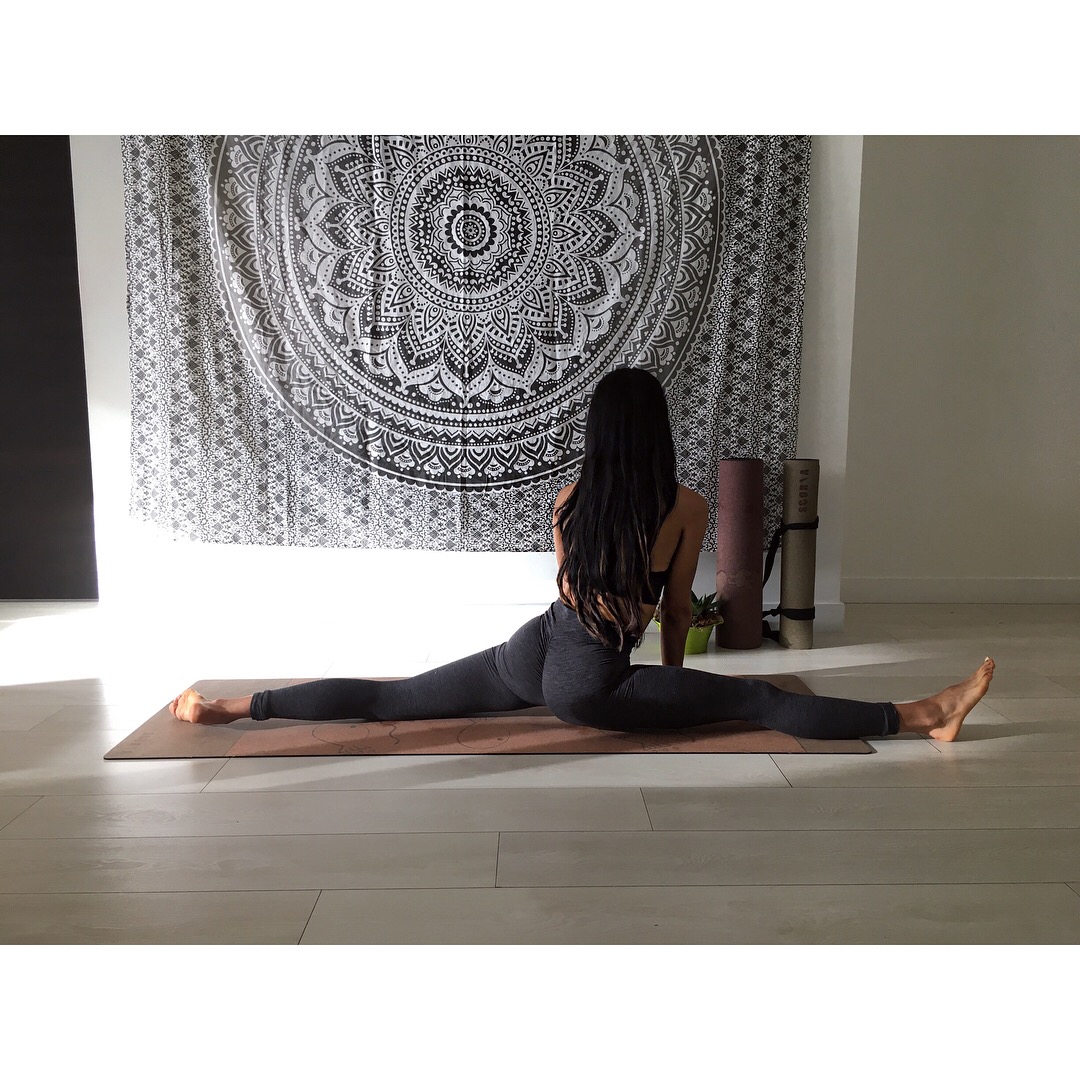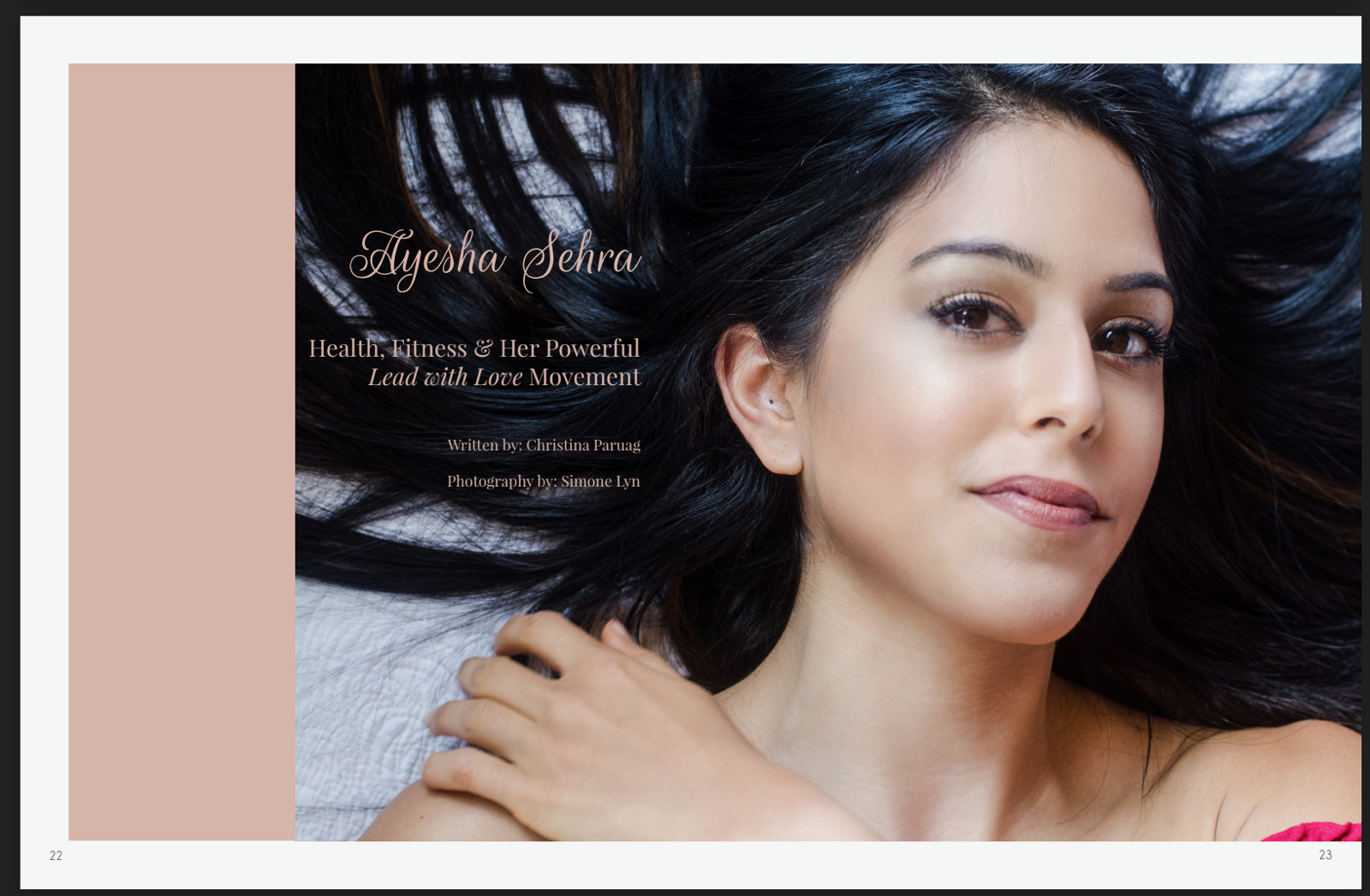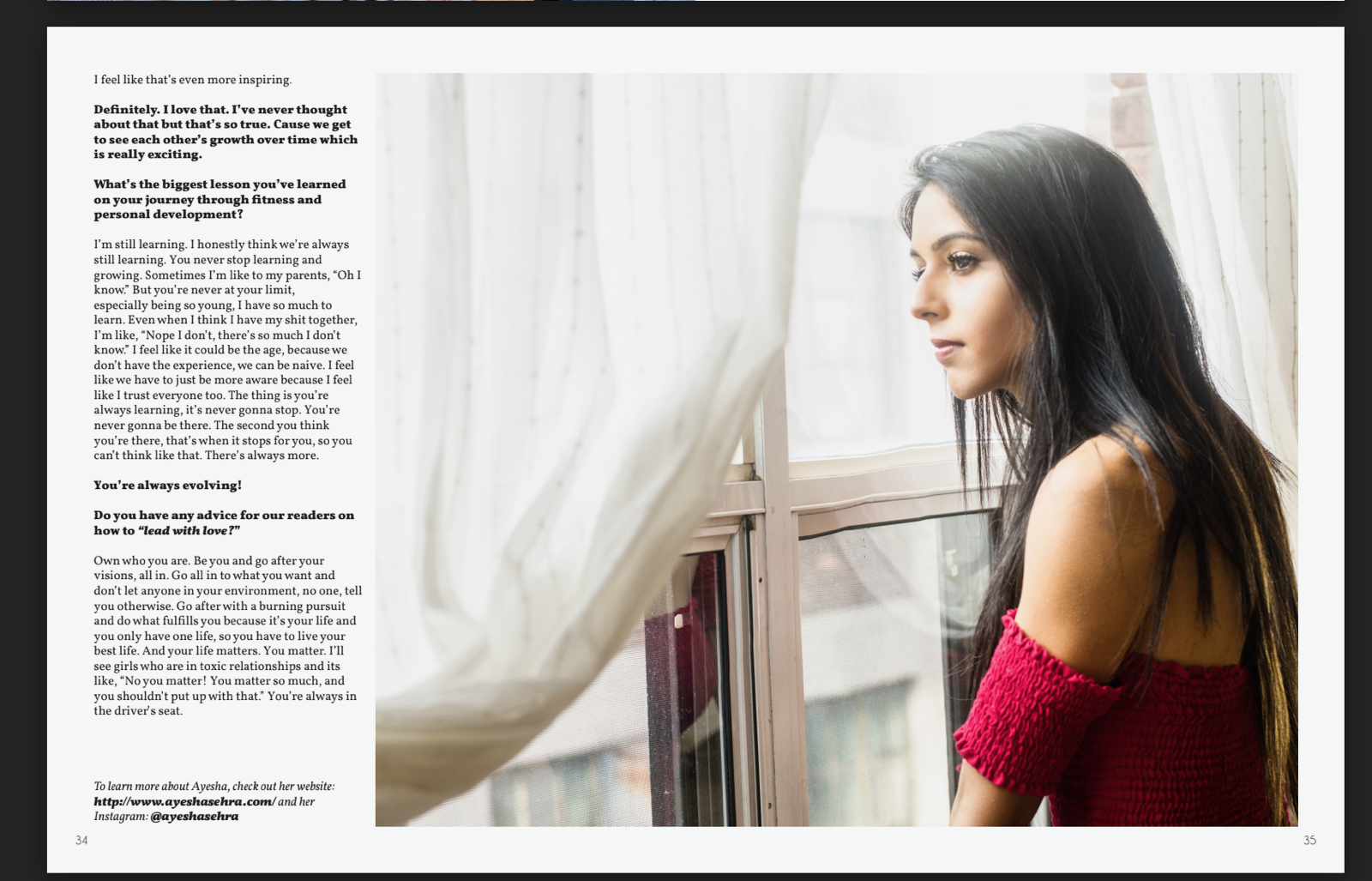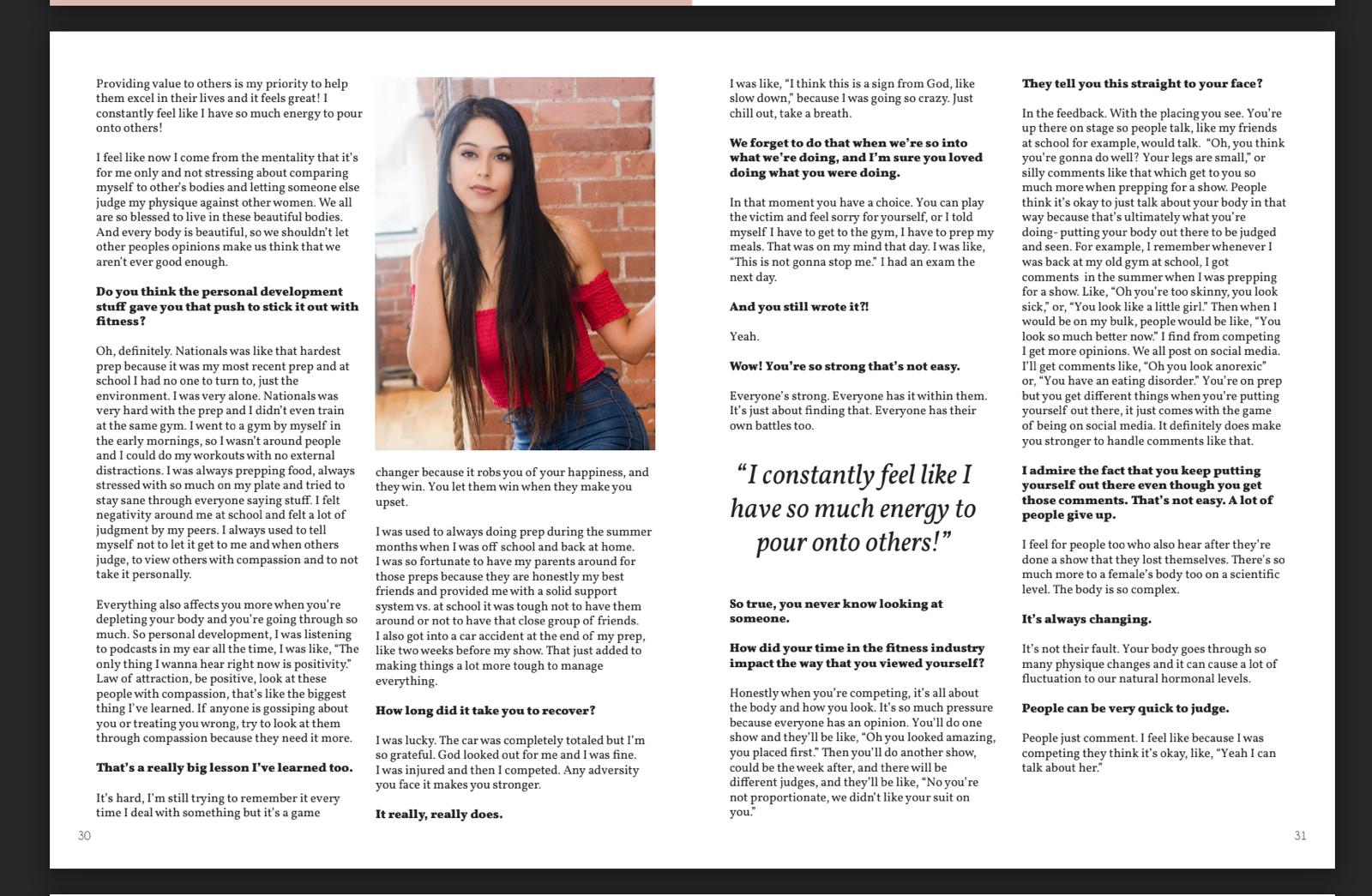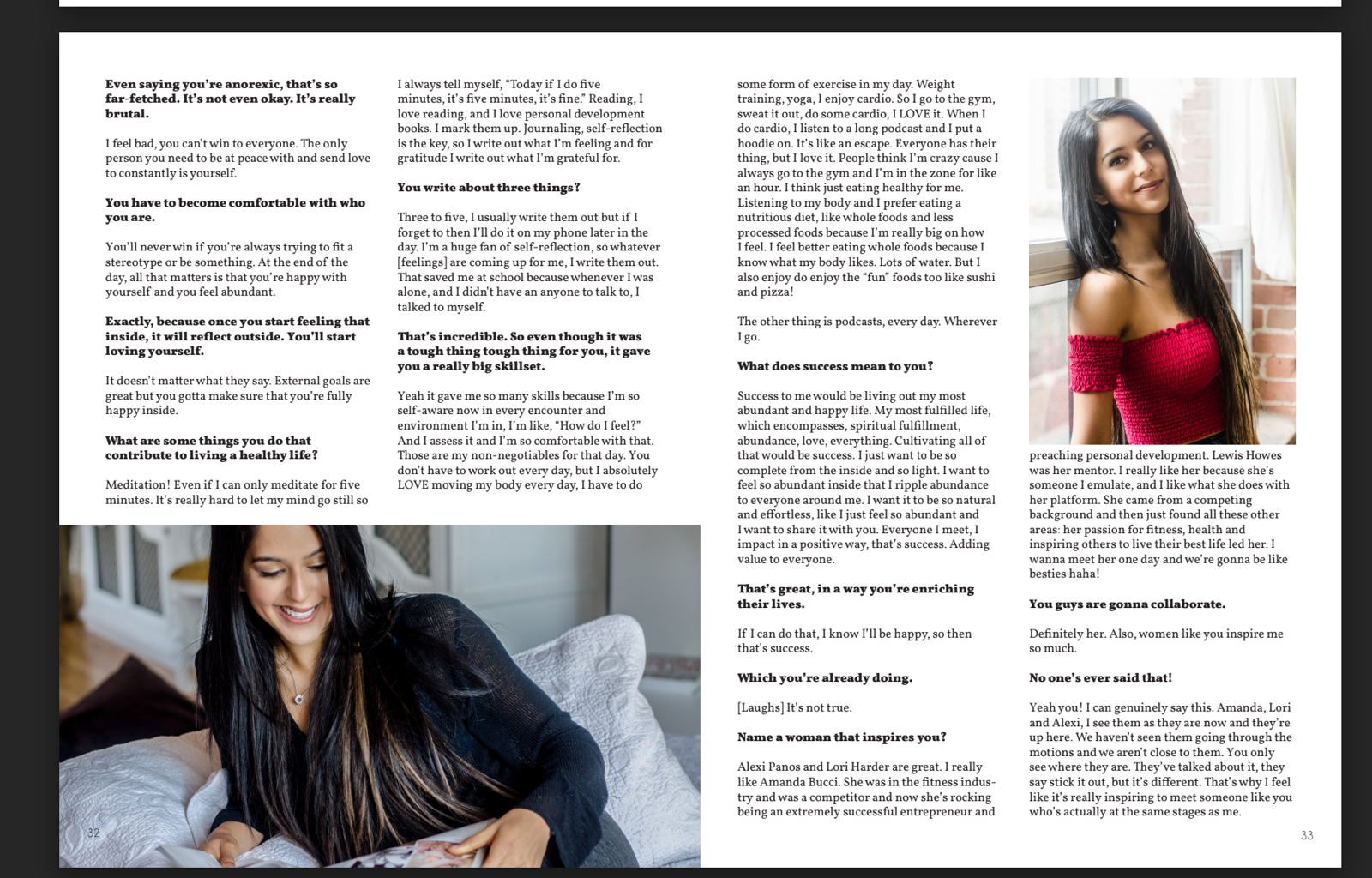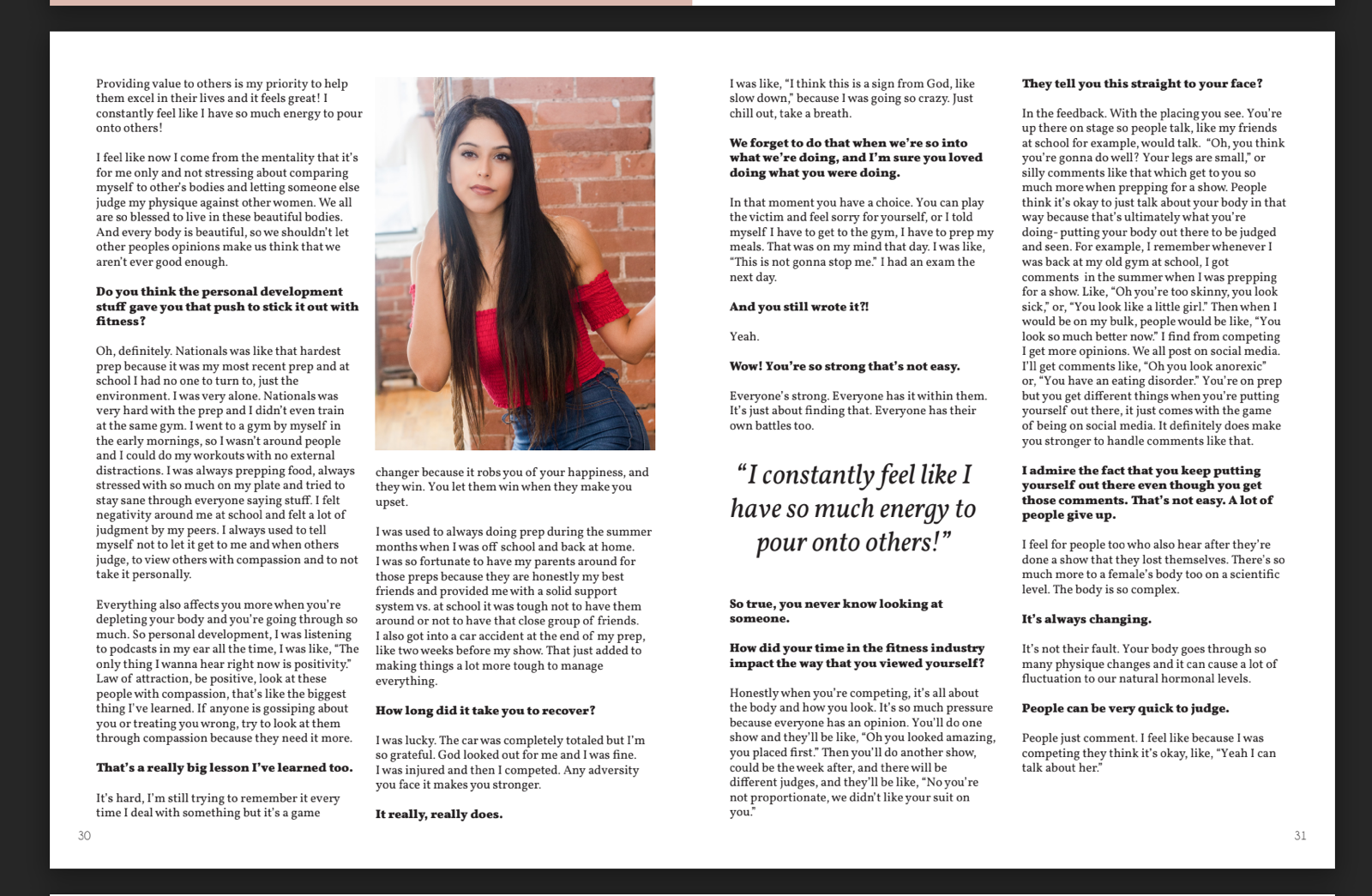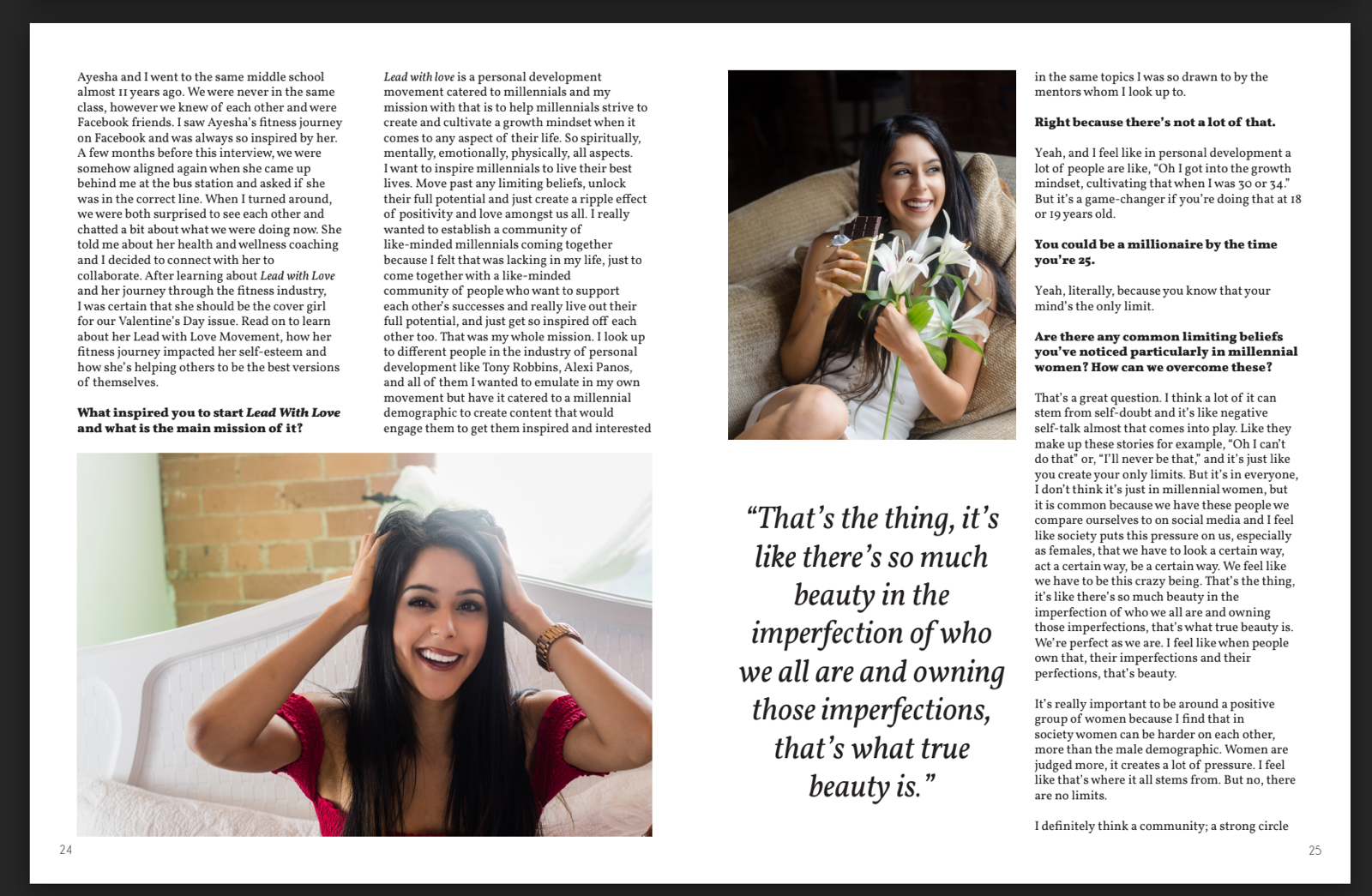 BUMBLE PRESENTS...
"NETWORK AND TRAIN WITH AYESHA SEHRA"
Ayesha hosted the Bumble x Bumble Biz first ever Live Event in Toronto!
Ayesha led the event with a mix of Fitness, Business and Mindset focused talk on the importance of mindset and positive environment in achieving fitness and health goals! Following her talk, Ayesha led a high energy Bootcamp class and closed the event with a Q&A session and networking with all the attendees.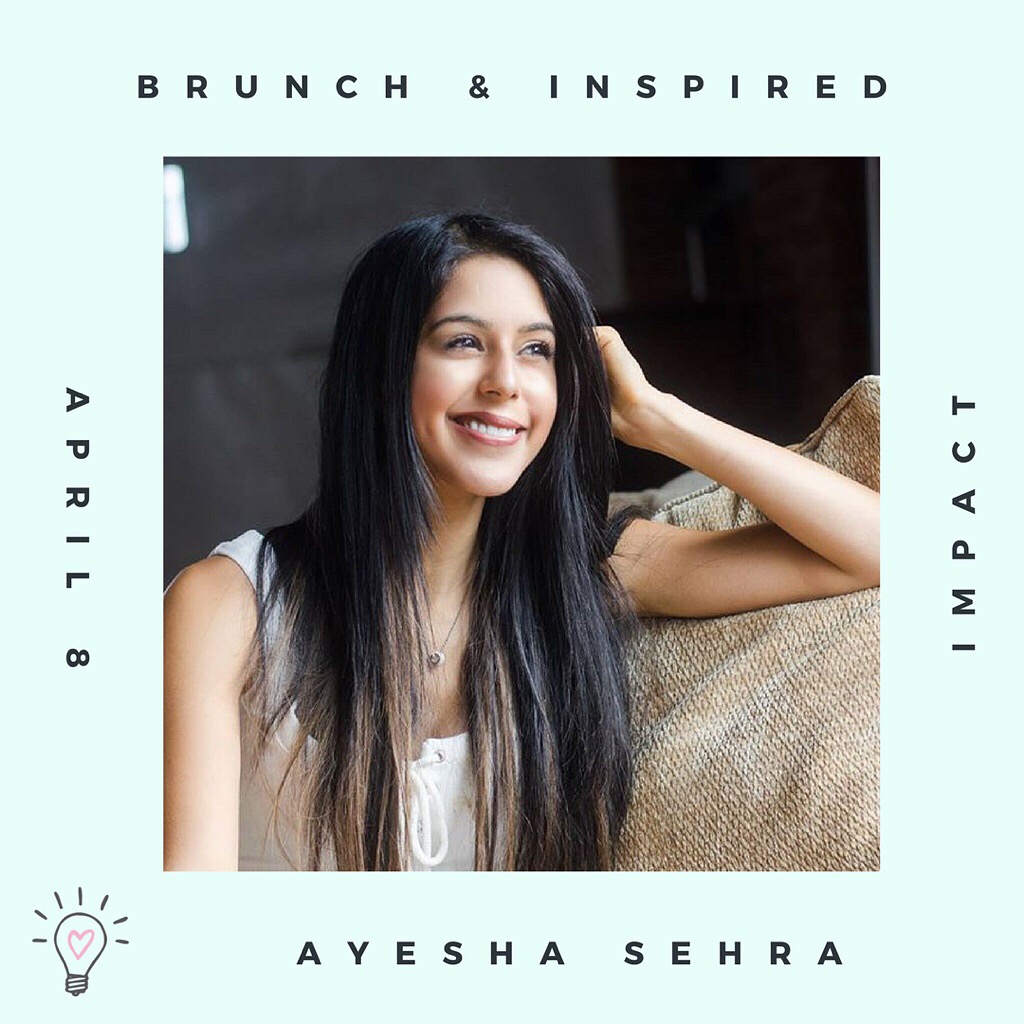 Ayesha was a keynote speaker at this event and led an inspiring talk about how to overcome fear to step into the purpose-filled abundant life you are meant to live!
Ayesha's mission through speaking is to inspire people of all ages to leave their mark on the world and live their best lives!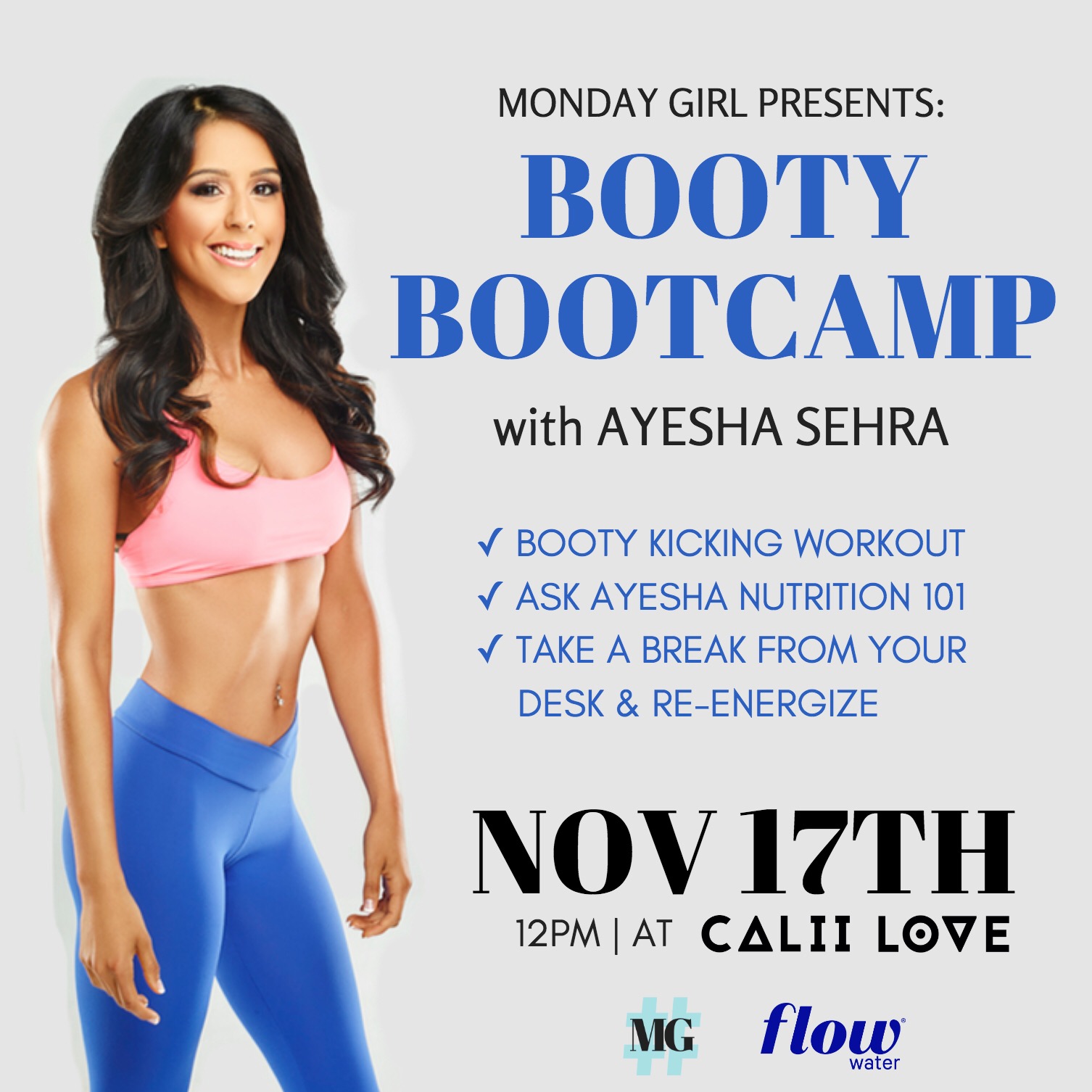 MONDAY GIRL PRESENTS...
"BOOTY BOOTCAMP WITH AYESHA SEHRA"
Ayesha led a fun, high energy, girl boss workout class followed by a Nutrition Talk, discussing how to nourish and fuel your body optimally to show up as your best self, full of energy each day!
HOST OF THE TORONTO BLUE JAYS X JAYS CARE FOUNDATION EVENT!
In Partnership with Barry's Bootcamp Toronto!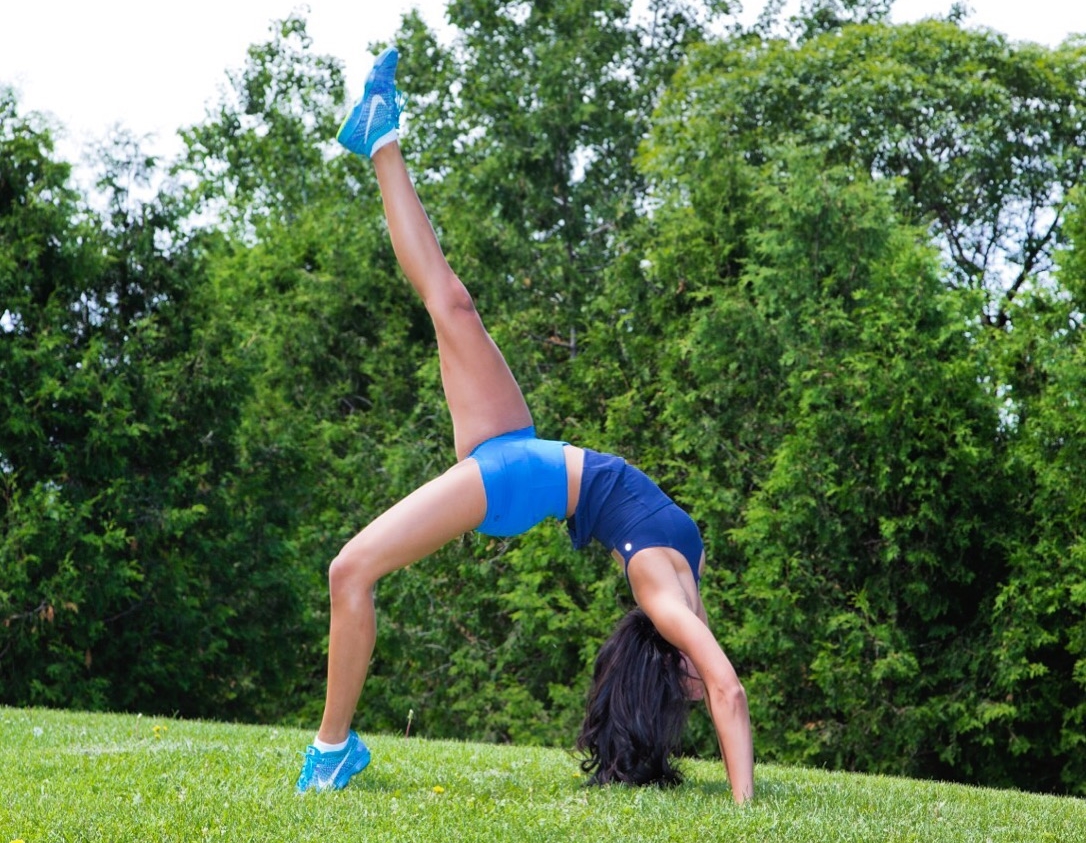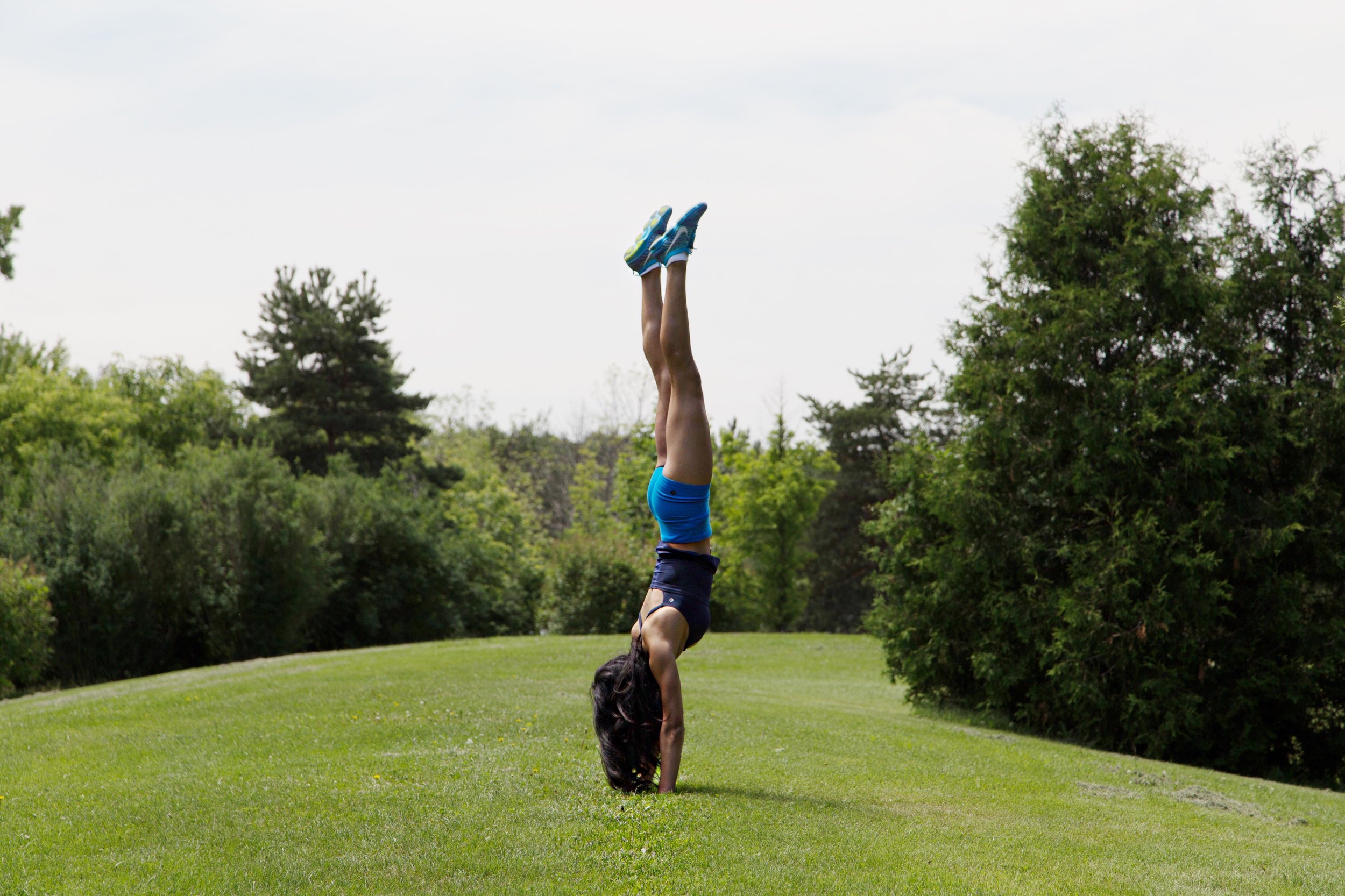 Contact
Email: ayesha@growthesocial.com Phone: 647-500-6693
For any business/media inquiries!